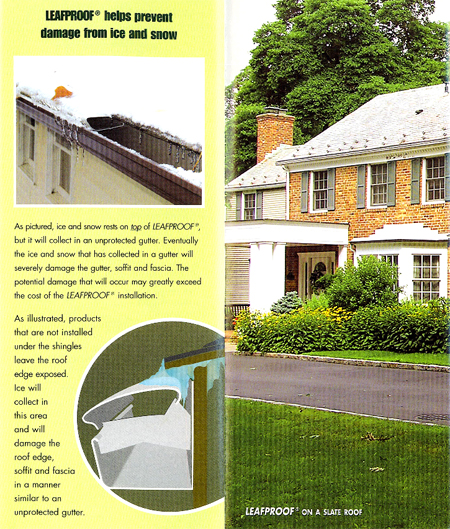 Helps Prevent Damage—Endorsed by Paul Harvey
DeWyse Construction, Inc. can help protect your Upper Peninsula home with the installation of Leafproof along with our Seamless Gutter System that we customize for your home. Available in many colors, click here to visit www.leafproof.com for more information on colors and styles.

Upper Peninsula winters can be extreme. Make sure to protect your investment with a product that is unique and proven to work.

"As pictured, ice and snow rests on top of LEAFPROOF, but it will collect in an unprotected gutter. Eventually the ice and snow that has collected in the gutter will severely damage the gutter, soffit and fascia. The potential damage that will occur may greatly exceed the cost of the LEAFPROOF installation.

As illustrated, products that are not installed under the shingles leave the roof edge exposed. Ice will collect in this area and will damage the roof edge..."—LEAFPROOF PDF, Click link below to learn more about protecting your home investment.

Call or email today to find out our DeWyse Construction, Inc. can install a LEAFPROOF System for you and your family!